KR Specialties – Manufacturer of the Original Collapsible Water Dams for Barrier-free Showers
Designed specifically as a solution to water spillage in all types of curbless/barrier-free & ADA showers including Acrylic and Fiberglass.
Control Water spillage with KR-Specialties Collapsible dams (also referred to as a water retainer or water stopper), help prevent falls and reduce facility liability and maintenance. Developed and patented specifically for all types of barrier-free curbless shower units, which require water control. White in color, tall 1 inch height, our water dam collapses easily by foot or wheelchair. Durable and easy to clean. Strong, self-adhesive, water-resistant tape eliminates messy adhesives. Highly effective water stopper for barrier-free showers with long radius corners. Apply vertically up the wall to assist the curtain in the corners to provide the best way to contain water in an ADA shower.
Patented features include a recessed channel housing commercial grade 3M self-adhesive tape for easy peel and stick installations on alcohol cleaned surfaces. The outer edge design provides a flexible gravity seal which allows the dam to flex while eliminating the need for hard to clean caulking..
Made in USA
US patent (#7.0055,188)
Rated highest quality and most reliable since 2004
US Lab certified meets all antibacterial requirements of Healthcare facilities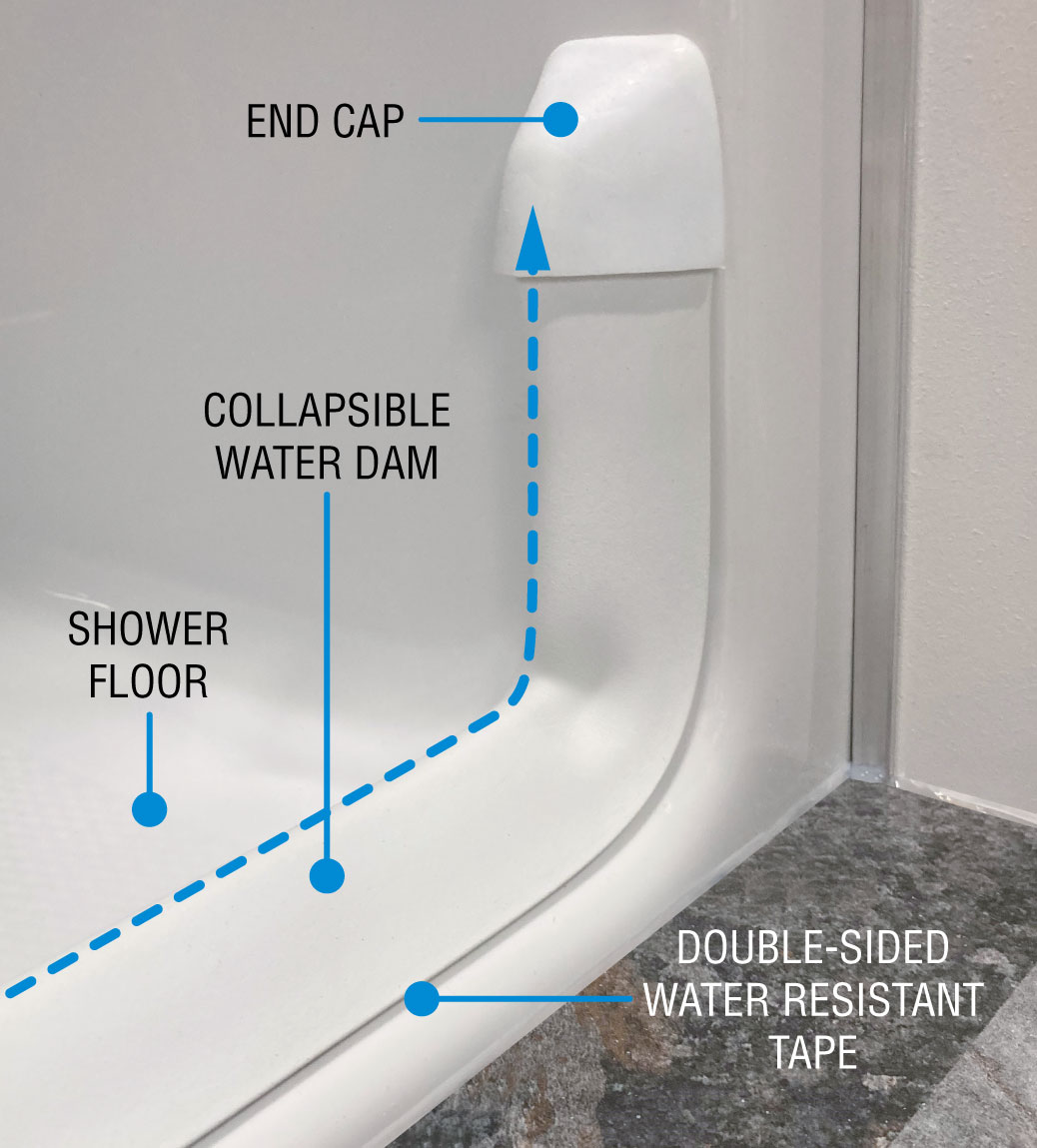 Curtain Assist Design – Holds curtain in place, blocks water spillage
We Offer Complete Water Control Systems
Complete water retainment systems are most effective when paired with flexible fabric shower curtains with heavy tape weights sewn into bottom seam that helps hold shower curtain to the floor and hug corners providing complete water retainment. Half height fabric shower curtains offer safe & dry bathing assist for skilled nursing and caregiver attendants. Pivoting shower rods allow safe and unobstructed entry and exiting of patients using showers chairs and/or ceiling lifts.
WHAT OUR CUSTOMERS SAY ABOUT KR SPECIALITES
"I recommend the KR Specialties collapsible water dams and weighted shower curtains to several of our clients. KR Specialties products work great in controlling the water on all types/brands of roll-in showers. I highly recommend them to facility owners and operators having water control issues at their showers".
"In 2002 there was no sensible solution to water escaping barrier-free showers. ABG and others in the bathware industry were seeking a functional and effective solution to enhance our curb-less barrier-free showers. Kevin and his team introduced quality water retention products that have proven to ABG and it's customer base for two decades that they are consistent and reliable as the company that created them. KR specialties products are highly recommended and have been an effective industry wide solution".
"We have ordered numerous collapsible water dams. This works great for our facilities. We have 200 plus units of assisted living and memory support between 2 properties, and installed them in every unit. This assures the safety of our residents and prevents water from spilling on to restroom floor. Great company and always responsive!"
OUR CLIENTS